What a year!
It's been a big year for CPActive, with lots of events and the launch of our Blaze the Trail campaign. Three of our Champions- Ben Andrews, Meret Hassanen and Tash Garritty recap what happened in 2022.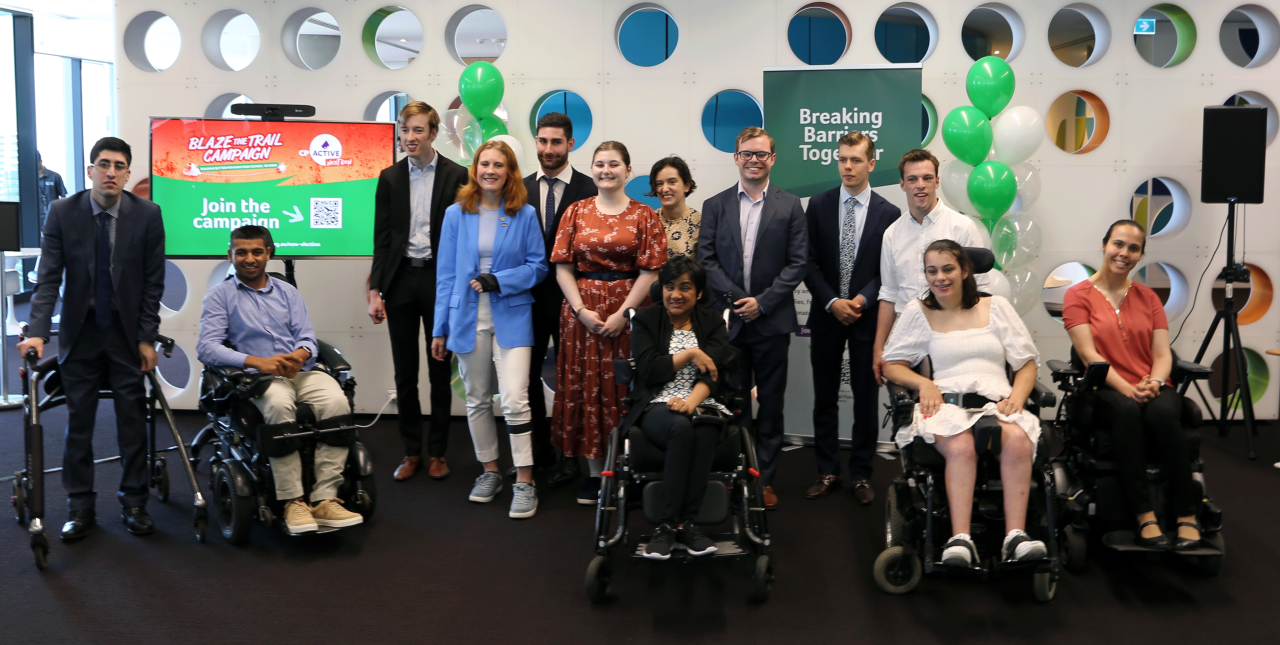 By Ben Andrews:
First full year of CPActive done & dusted. People with a disability face barriers everyday, myself included. Breaking down these barriers is the main ambition of CPActive & their Champions. As someone who's had to deal with these barriers in the past I know what it's like for other people facing the same hurdles.
For this reason, CPActive have hosted & facilitated a number of events over the past year to help raise the voices of people with cerebral palsy & other related conditions. Even though I haven't been able to attend some of these events due to work commitments I've attended those events that I can fit in with work.
One of the virtual events I attended was the three Youth Labs which aimed to design & develop a list of guidelines to help make school, uni & the workforce more inclusive, accessible & accepting. The labs also focused on exercising rights in terms of education, funding & the workforce as well as how networking can help in the journey of finding employment. These labs led to the launch of the Blaze the Trail campaign in Barangaroo. 
The campaign focused on breaking down barriers & creating accessible pathways from school to work for people with CP. NSW Shadow Minister for Disability, Kate Washington, attended to give feedback & hear our experiences in the lead up to the NSW State Election in March next year. 
Another event held this year was the Town Hall takeover with Dylan Alcott. This involved a panel of CPActivists who spoke about their lived experiences of social inclusion at school, how they've had to advocate for themselves as well as using their networks to find employment.
We also attended the NDIS Jobs & Skills Summit in Canberra. Also in attendance were Minister for the NDIS Bill Shorten & Chair of the NDIS Joint Standing Committee Libby Coker. We even met with Prime Minister Anthony Albanese at a special summit dinner afterwards to discuss the current operations & advising the federal government on how to support those living with a disability into the workforce. The main aim of the summit was to ensure the NDIS is truly meeting the needs of people with a disability.
All up I'm impressed with what we've been able to achieve & the people we've been able to reach out to & connect with. I'm excited to see our campaign grow next year while I'm hoping to be able to attend more events next year while still being able to balance this with work.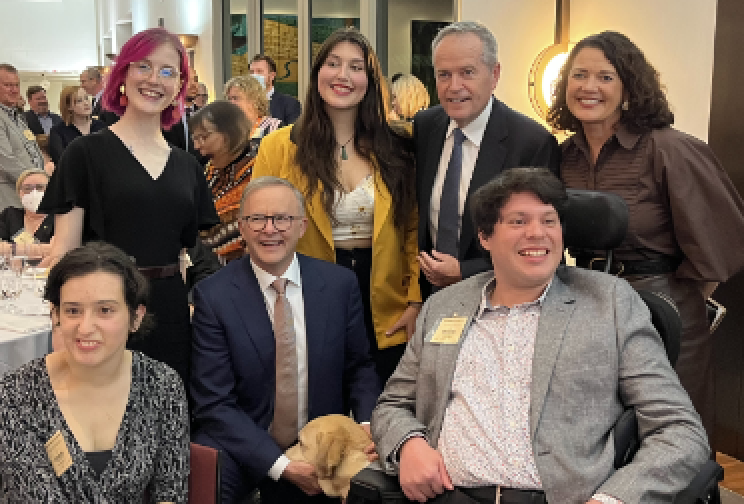 By Meret Hassanen:
In March, a handful of young people with Cerebral Palsy came together and formed an advocacy group.  We didn't know what we were setting out to achieve but called ourselves CPActive NextGen for the time being.
There were many Zoom meetings and WhatsApp threads discussing issues important to us.  It got to a point where if you weren't on social media or emails for a few days, there was major catch up to be done!  And so, here we were, in the midst of rigorous discussion, but still not sure of next steps or an outcome.
Our first official event was a Town Hall takeover in June, where our panel of CPActive Champions spoke about their lived experiences of social inclusion at school, how they have had to advocate for themselves and the power of networking to get into the workforce.
After many evening Zooms, we held three online focus sessions on Inclusive Education, Exercising Your Rights and The Power of Networking.  During each session, CPActive Champions spoke about their experience and facilitated breakout rooms where groups discussed what the world would look like if they had all the supports they needed.  These discussions would later be used to form three campaign asks for the Blaze the Trail campaign.
In August, myself and Declan Lee went to Canberra to attend the NDIS Jobs and Skills Forum and represent our group at Federal Parliament!  After a welcome dinner, where Prime Minister Anthony Albanese made an appearance, we attended the day-long forum to give minister for the NDIS, Bill Shorten, asks to take to the Federal Government's Jobs and Skills Forum.  With the day moderated by disability rights campaigner Elly Desmarchelier, we facilitated breakout groups to come up with achievable asks that the Minister could take to the summit.  I also joined Elly and other working professionals with disability on a panel where she discussed starting in the media industry and the impact networking has on her work.
The year culminated with an official campaign launch on 23 November.  The campaign: Blaze the Trail!  Held at Barangaroo, Sydney, it addressed a group of around 40, made up of people from industry and government – timely considering the upcoming NSW State Election!  The event, like every one that came before, was run entirely by the CPActive Champions.  There were seven speakers in total who spoke to our three campaign asks, sharing personal stories to demonstrate the importance and timeliness of these asks.  The NSW Shadow Minister for Disability, Kate Washington, responded to our asks and congratulated us for the work done thus far!
The formalities ended with a chance to network with everyone who attended, but the day was not over for us!  A social catch up afterwards allowed everyone to celebrate the achievements of the year and the friendships made along the way!
Congratulations to the entire CPActive community for a fantastic 2022 and here's to an even bigger and better 2023!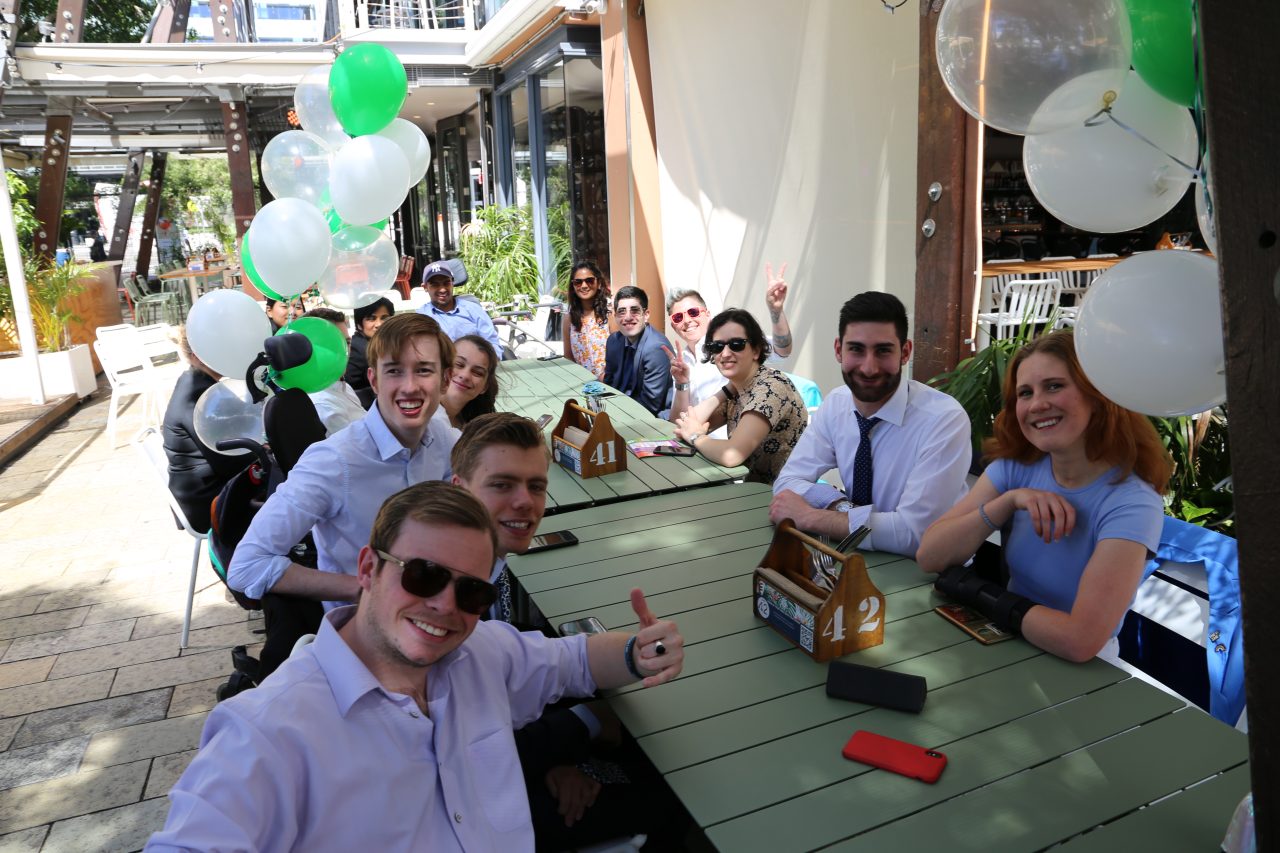 By Tash Garritty:
When CPActive Next Gen was first created earlier this year, I was asked to be one of its initial members. This is my first attempt at disability advocacy as part of a group in my adult life. I am proud to say there have been many meaningful achievements which both members of the community and the CPActive organisers had a hand in. The goals of this group are simple: push and help provide for an inclusive community particularly for young people with a disability. One of the first big activities developed was Youth Lab workshops. This was a series of three zoom group meetings made up of the CPActive Champions and members of the community with disability. The purpose of these groups was to determine the main focal points for CPActive in terms of creating meaningful change in three areas: work, education and disability supports.
The first of these workshops was the most memorable for me as the current Australian of the year Dylan Alcott helped run the session which was focused on disability supports, where many of the issues the community were experiencing with government systems were discussed. It was the workshop on the education system that I found the most inspirational and hopeful. When asked to devise an "ideal school" we all unanimously agreed that technology should ideally be used in places of scribes so that the students feel they have complete ownership and control over their own work. The continual need for proving and justifying the need for adjustments was also taken care of by a smart AI system that constantly evaluated the adjustments it automatically set based on the marks the students had gotten and any medical documents in its record. The amount of passion expressed by all the attendees of this workshop led the workshop members to make all three levels of the educational system in Australia fully academically accessible its primary starting goal.  Making work and the workplace accessible for all is also on the cards further down the track but to begin with it was decided to focus on one area to make sure change was implemented.
Though consultation with Teigan Buchers over several weeks, we officially decided on a name for the group and a logo as well as increasing our presence and reach though social media and other platforms. For our Blaze the Trail campaign launch, we decided on three main points to present to the politicians and other stakeholders that were present in the room. They are: 1.Clear and enforceable guidelines for support in exams at all levels of education. 2 pathways for people with a disability to enter the teaching work force. 3 A state wide initiative to support the development of pathways for students with a disability to enter into large business government and other organisations.
I'm proud to be working with such an invested, engaged and passionate group. We all respect each other and regularly bounce and build off each idea put forward by a group member. At its core, CPActive is a group of friends that are all equally passionate to see positive change in both societal attitudes and legislative decisions effecting our community. All for us are willing to take actions to see this happen and when multiplied together I feel like this group movement is unstoppable. It's only a matter of time before our small group starts expanding and has a real world impact on the lives of people with a disability. I know we are not alone in this movement and neither are you who are reading this. Just remember that whenever you feel isolated and helpless that if you speak up, your voice will be heard by someone. If we all combine our voices we can all help each other to make meaningful change.