CPActive Champion Hannah Diviney appears on The Project and named Women's Weekly Awards finalist
CPActive Champion Hannah Diviney is on a mission to change things for women living with a disability. Now a Women's Weekly Awards finalist with national television appearance under her belt, she's not slowing down.
Hannah made her mark as an activist last year when she petitioned Disney to create a princess with a disability and give representation to millions of girls around the world. Her Change.org petition went viral with over 50,000 signatures so far, and cemented Hannah's place as a voice for change.
She appeared on The Project TV to explain how important representation is for young children finding their sense of identity and self worth.
"Growing up in Australia with cerebral palsy is a bit tricky I guess, because disability isn't really something that people have accepted totally yet," Hannah said on The Project.
"Disney is a massive part of my life… I saw these strong, capable young women who were going on adventures, and they had friends, and they were falling in love, and doing all these amazing things. I just wanted to be like them, but there was no one who looked like me on screen.
"When you don't feel represented or seen as a kid, it's like it creates some sort of black hole inside you that you just have to continually step around.
"18% of Australians live with a disability… there's a lot of us, and it's absolutely not reflected in our screens at all.
"If I had seen myself represented on screen, that would have quite literally changed my life."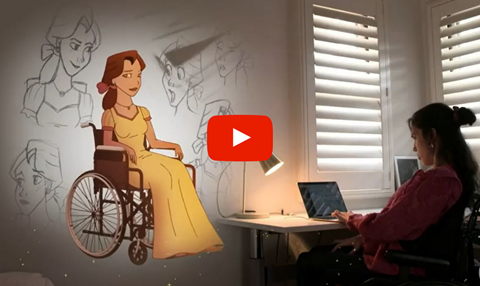 Hannah's petition has gained international attention, but it's only the beginning of her journey to raise the voices of people with disability in the media.
She joined six other activists in creating Missing Perspectives, a global publication platform that critiques the marginalisation of minority women and girls in news media. Their work attracted the attention of Reese Witherspoon's media brand Hello Sunshine, which kicked off a social media collaboration to amplify their voices.
It's Hannah's work on Missing Perspectives that has made her a finalist in Women's Weekly's Women of the Future Awards.
In an interview with the St George and Sutherland Shire Leader, Hannah said if she wins the Women of the Future Award she will use the prize money to fund advocacy workshops for Australian women and girls across the country, giving them the skills to own their story and use their voice.
"It would mean a lot to me, both personally and as a disability advocate and as a disabled woman," Hannah told the Leader.
"We want to create a space where these women's stories can be heard. All our writers are women and girls, we're very specific in elevating the experiences of marginalised teens and girls."